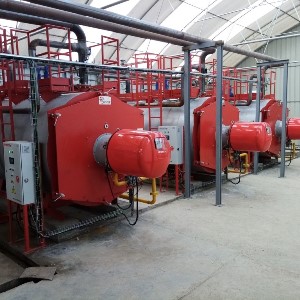 Integral Combustion Solutions (Soluciones Integrales de Combustión) has completed the commissioning of a heating installation for a Greenhouse in Uzbekistan. Such hot water installation will provide the greenhouse heating system for the cultivation of tomatoes, so that they have the appropriate temperature and humidity to develop optimum production in a country with extreme temperatures.
The greenhouse is a project executed under the "turnkey" or EPC (Engineering, Procurement and Construction) modality by the Spanish company Prodinco Greenhouses, specialized in the construction of greenhouses and warehouses for the agricultural sector, and with presence in projects for this sector in Spain, Azerbaijan, Peru, Mexico and the Dominican Republic, among others. The heating installation recently launched by Integral Combustion Solutions includes a combustion unit, composed of three boilers of the Sincal firm and three burners E&M Combustion model JBM-600-G  , which will operate with natural gas and a maximum burner power of 6,000 Kw.
JBM burners have reduced NOx emissions, low noise and continuous engine cooling. They incorporate standard electronic control units that allow the use of frequency inverters for fan regulation and O2 probes. Optionally, they can use 10 "screens with specific software for monitoring and control of the industrial burner, which in turn allow remote management and remote control over Ethernet.
Heating Installation for a Greenhouse
Hot water central heating systems are especially recommended for use in very cold weather zones or when it is necessary to increase the ambient temperature for prolonged periods of time. Thus, water heating occurs in boilers using, in this case, gas burners, to distribute the hot water in the greenhouse through a network of steel pipes arranged under the crop.
This type of system achieves a uniform heat distribution and allows to maintain a constant temperature regime.
The Central Asian country has made the decision to build these greenhouses due to the growing need to produce its own fruits and vegetables, thus reducing the weight of imports from third countries and achieving self-sufficiency. Uzbekistan is one of the largest countries in Central Asia, with little rainfall and in which the desert plateau comprises almost 80% of the territory. For this reason, it plans to build greenhouses in different regions, a process that enables the cultivation of plants in artificial environments with arid soil, a common situation throughout the Uzbek territory. In addition, given the size of government projects, abundant foreign investment is expected to go to the construction contests of the plants.
Soluciones Integrales de Combustión XXI is a company specialized in the installation and provision of energy services, through the supply, installation and commissioning , maintenance  and repair  of all the elements that make up a Thermal Power Plant. Thus, the company provides turnkey services for energy installations, which increase the productivity and energy efficiency of its customers. The company is made up of professionals from the sector with more than 20 years of experience and operates worldwide.
Pool de Comunicación
Pool de Comunicación  is an Industrial Marketing Agency that provides support to SME´s in their projects of Internationalization, Market Expansion, Brand Creation and Public Relations.