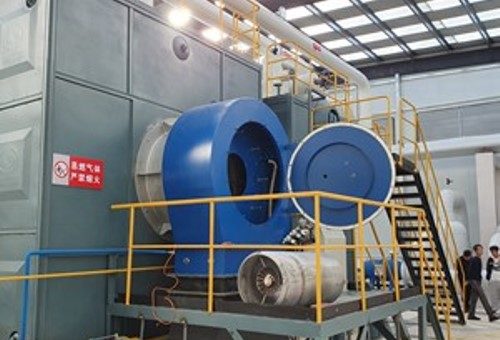 Iratxe Bernal. EL CORREO.- Ultra Low NOx Industrial Burners. The Spanish engineering firm E&M Combustion installs two Industrial Burners on municipal District Heating paths in China, where the demands on pollutant emissions savings are much higher than in Europe.
This winter, thousands of Luan Chuan and Beichen neighbors (in Henan province and Tianjin municipality) will be able to enjoy the warmth of home thanks to the technological advances designed and manufactured in Artea (Spain). Specifically, at the E&M Combustion plant, an engineering specialized in the development and manufacture of Ultra Low NOx industrial burners and Combustion Equipment created in 2004, that has won the competitions to provide two municipal heating plants with its technology. To achieve this, the Spanish firm has shown that it is capable of complying with the demanding restrictions that the Chinese giant imposes to these facilities to combat pollution. While in Europe the standard allows the level of emissions to be below 100 milligrams of nitrogen oxide (NOx) per cubic meter, there that limit remains at 30 mg.
"There, the problems caused by pollution in big cities are brutal. Nothing to do with those in Europe. This has forced the Government to demand very severe control measures in certain sectors, «forcing to the limit what it allows technology, "as Iñigo Béjar, CEO of E&M Combustion points out. "There are those who believe that China does nothing to reduce pollution but there has such an impact that they have no choice but to act and, in the most populated cities, they are being stronger than in the EU," he emphasizes.
Among the facilities under that control are the municipal district heating plants, which supply the entire neighborhood inhabited by thousands of people. It's like sharing the boiler with the entire neighborhood instead of just with your neighborhood community. So even if the end user is a domestic user, the facilities acquire an industrial size. For example, in Luan Chuan and Beichen the E&M Combustion burners have been incorporated into boilers of 56 and 29 megawatts, respectively.
«To comply with the regulations, in addition to designing special elements, such as the heads, we use Flue Gas Recirculation. That is, the boiler gases, regardless of the size of the boiler, leave through a chimney. If you get that, as in a closed circuit, a part returns to the burner, the new air mixture lowers the temperature of the flame and reduces the particles of nitrogen oxide, "explains Béjar.
Thus they have managed to stay below those 30 milligrams of NOx per cubic meter allowed to apply for public contracts, but soon they will not exceed 20, the threshold for now they fight in the R&D department of E&M Combustion. " The Chinese Goverment continues to increase the requirements and is already replacing equipment that was installed four or five years ago, when it was allowed to reach 80 mg / m3. In addition, we are sure that at some point Europe will also impose more restrictive measures than we have now because each time we have to be more efficient and less polluting, and technically it can be achieved, "says Béjar.
About E&M Combustion
The Spanish Engineering firm, which has clients as varied as Repsol, Pemex or Iberdrola in the energy sector or Diageo, Puleva or La Casera in the food industry, has also recently installed two 'ultra Low Nox' burners at the Damm brewery in the Santarem, Portugal, but in this case 'only' have reduced emissions below 80 milligrams per cubic meter. «It is clear that very few people will ask for the most efficient equipment; The one that best complies with current legislation will always ask, "justifies Iñigo Béjar.
About Pool de Comunicación
Pool de Comunicación is a Corporate Communication and Digital Marketing consultancy born from an extensive professional career of its team of journalists in economic and business media. Its objective is to satisfy all the needs in the field of corporate communication, public relations, digital marketing and improvement of the integral image of industrial companies and organizations of all sectors of activity, nationally and internationally.